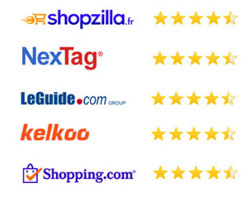 Excelentné služby
Vaša spokojnosť je naším prvoradým záujmom. Spravte si radosť na SPARTOO.SK a objednávajte s plnou dôverou vďaka našim službám
Zabezpečené služby
Platba zabezpečená kryptovaním údajov, sledovanie pohybu balíka a stavu objednávky, spojenie s pracovníkom Zákazníckeho centra, ktorý odpovie na Vaše otázky telefonicky alebo e-mailom, či on-line pomoc cez naše Často kladené otázky. Našich partnerov (logistika, kuriérske služby, banka CIC) sme si vybrali pre ich seriózny prístup a pre kvalitu ponúkaných služieb.
Doručenie a vrátanie tovaru/výmena tovaru zadarmo
SPARTOO.SK Vám ponúka bezplatné zaslanie Vášho balíčka.
Objednaný tovar Vám úplne nevyhovuje? Vráťte ho bezplatne do 30 dní od jeho prijatia. Modely SPARTOO.SK sú vymeniteľné za inú veľkosť, pokiaľ sa tieto nachádzajú na sklade. Daný model Vám nevyhovuje? Získajte darčekovú poukážku pre ďalší nákup, alebo Vám za tovar vrátime peniaze.
Bohatá ponuka
Na stránke SPARTOO.SK nájdete viac ako 30 000 modelov pre mužov, ženy a deti a viac ako 700 uznávaných značiek, ktoré oceňujú milovníci obuvi (Converse, Kickers, Dr. Martens, Pataugas, Nike...) Zároveň Vám ponúkame širokú paletu tašiek a doplnkov z koženej galantérie spomedzi stoviek originálnych značiek: David Jones, Desigual, Paquetage, La Bagagerie alebo Hello Kitty pre našich najmladších. SPARTOO.SK, to je veľmi veľký výber oblečenia pre dámy a pánov. Desigual, Esprit, Levis, Diesel, Eleven Paris... objavte najnovšie kolekcie tých najväčších značiek prostredníctvom niekoľkých jednoduchých kliknutí.
« Viac ako 700 značiek a 30 000 modelov. Bezplatné doručenie a vrátenie tovaru, zabezpečené služby...»
Vyhľadávanie podľa vlastnej chuti
Rýchly výber modelov podľa vašich kritérií
Zadávajte priamo kľúčové slová vyhľadávania (farba, veľkosť, cena, atď.), alebo použite viaceré filtre, ktoré máte k dispozícii.
Vyhľadávanie s dvoma zadaniami
Surfujte cez rôzne štýly, ktoré sa Vám páčia a objavte značky Vášho štýlu. Zvoľte si obľúbenú značku a objavte Vaše obľúbené modely v zóne, ktorá je venovaná každej značke.
5 najpredávanejších modelov
Objavte 5 najpredávanejších modelov na SPARTOO.SK v každom štýle a v každej značke.
Pri novej návšteve stránky nájdete informácie z Vašej predchádzajúcej návštevy
Vybrali ste si, ale nechcete objednávať hneď teraz? Bez obáv! Ak je tovar ešte stále dostupný, nájdete ho na stránke "Moje obľúbené" spolu s tovarom, ktorý ste si prezerali počas Vašej poslednej návštevy stránky SPARTOO.SK.
Prihlásenie
Prihláste sa do Vášho Zákazníckeho účtu, kde nájdete všetky informácie: doručovacia adresa prebiehajúcich objednávok, kúsky, do ktorých ste sa zaľúbili, ako aj darčekové poukážky - to všetko prístupné na jednom mieste, s možnosťou úpravy údajov.
Wishlist
Zaľúbili ste sa počas jednej návštevy našej stránky do určitého tovaru? Chystáte si zoznam nákupov na Vianoce? Alebo už pripravujete, čo by ste si kúpili počas výpredajov? Dajte si na jednu kopu obľúbený tovar pridaním ho do rubriky "Moje obľúbené". Nič jednoduchšie neexistuje! Tlačidlo "Pridať k obľúbeným" sa nachádza v spodnej časti každého jedného tovaru!
Váš košík
Po tom, ako si nákup dobre premyslíte, si presuňte svoje modely z kolonky "Moje obľúbené" jediným kliknutím do nákupného košíka. Môžete si vybrať niekoľko kúskov, alebo všetky položky z wishlistu. Je to veľmi jednoduché, rozhodnutie je len a len na Vás!
Naše multi platformové aplikácie: ste mobilný ? Aj my !
Nájdite Spartoo.sk na mobile a tablete. Surfujte, likujte a pripravujte svoj wishlist kdekoľvek a kedykoľvek !
Mobilná stránka
Ponúkaný tovar si môžete prezerať pomocou inteligentných filtrov. Po ukončení nákupu si môžete sledovať svoju objednávku prostredníctvom Vášho Zákazníckeho účtu s použitím obvyklého prihlasovacieho mena a hesla.
Naše mobilné aplikácie
Jediným kliknutím získate prístup k našej stránke, kde si môžete stiahnuť aplikáciu Spartoo.sk, dostupnú na Google Play Store a App Store. Máte vyhliadnuté topánky? Naskenujte čiarový kód, ktorý nájdete na ich škatuli. Automaticky budete vedieť, či je model dostupný na našich stránkach (funkcia je dostupná len pre iPhone).